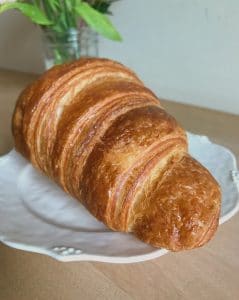 When people come into our boulangerie for the first time, they usually get wide-eyed and excited, which is exactly how we feel about French pastry! Some people talk about their time living abroad or the very best croissant they tried during a work trip. Then it comes to time to actually choose a pastry for the morning. They may go with an old favorite, or try something a friend recommended. We'll often hear people jokingly say, "I'll have one of everything." But if you have to choose, or if you're ferrying a friend through their first foray into laminated goodness, how do you pick a favorite? Here's a handy guide to steer you in the right direction.
Are You Thinking Sweet or Savory?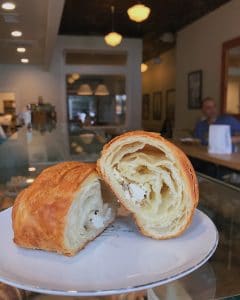 This is something we often ask when people request a recommendation. We make both sweet and savory pastries, so deciding what you're in the mood for is a great place to start. If you're thinking savory, then it's a question of what delicious ingredients you'd like wrapped up in your croissant. Pretzel croissants, pain au jambon, caramelized onion, and bacon jalapeño croissants all pack plenty of satiating flavor. If you're after something sweet, there are even more options waiting.
Do You Like Fruit, Chocolate, or Butter?
To be fair, we do make pastries with all three of those things inside, but if you're thinking sweet and you need to narrow down your options, these flavor profiles are a great place to start. We make monthly specialty pastries that feature a themed fruit ingredient like blackberry or peach. You can find those fruits on our pastry squares, in our almond croissants and kouign amann, or atop our tarts at the Greenville boulangerie.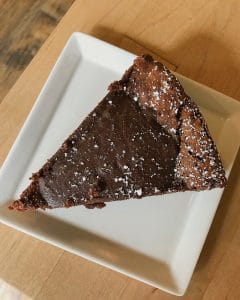 If you're thinking chocolate, oh do we have you covered. You can't go wrong with a classic pain au chocolat. Right now we also have the Pepito (think chocolate croissant with a touch of pastry cream). You can get chocolate in your kouign amann, an eclair, and even a chocolate chip cookie. If you are a chocoholic, we recommend the chocolate truffle cake. It's the stuff of chocolate dreams.
Of course, there's butter in almost everything we make — it's the French way. But it's also a pronounced flavor in its own right. Our croissants, traditional kouign amann, and laminated brioche all let the smooth, creamy profile of butter take center stage.
If You're Feeling Nutty, There Are Options for You Too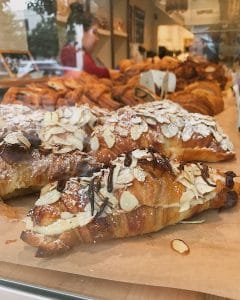 We haven't forgotten those of you who love a nutty flavor profile either! Our financier loaves are made with nut flour and boast the rich taste of pistachios, almonds, and pecans. Coconut macaroons are perfect for those that need to avoid gluten (though we prepare them in a shared work space, so if you are gluten intolerant, please be advised!). Then there are the almond croissants (in traditional, chocolate, and seasonal varieties). If you enjoy the taste of almonds, almond croissants will become your new favorite treat.
Come Find Your Favorite Pastry at Village Baking Company
We love seeing the passion that our fans have for French pastry. Everyone seems to sing the praises of their particular favorite. If you're a French pastry lover, we're excited to welcome you to our boulangerie! You can learn more about our menu and the availability of our items by contacting either of our Dallas, TX Village Baking Company locations by phone at 214-951-9077 (Woodall St.) or 214-821-3477 (Greenville Ave.).