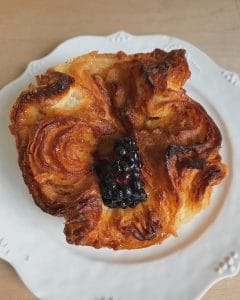 Fueled by a rich history, the intermingling of cultures, and an unmistakable perfectionism, French pastry has produced a host of wonderful, delicious creations. Each region of the country has its own sense of identity, and its own set of culinary cornerstones. In Brittany, one pastry in particular has risen to prominence, and it's one that we love getting to share with the DFW: The kouign amann. You may have seen this layered, buttery cake on a trip abroad or while watching The Great British Baking Show. If you've never tried it before, oh are you in for a treat. On today's blog, we get into how to pronounce this one-of-a-kind delicacy, along with much more about Dallas' favorite pastry.
A Little History Behind the Kouign Amann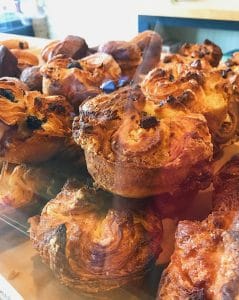 First off, to pronounce "kouign amann," we suggest, "queen ah-mon." If it helps, think "queen," like a crown, which matches the appearance of our bakes. The recipe for kouign amann is believed to have come from the 19th century largely by accident (as most culinary innovations do). As the story goes, a Breton baker attempted to salvage a failed batch of bread dough by adding a large amount of butter and sugar to the mix. The resulting bake was hearty (think bread dough), but sweet and decadent at the same time.
Kouign Amann Strikes the Right Balance of Butter and Sugar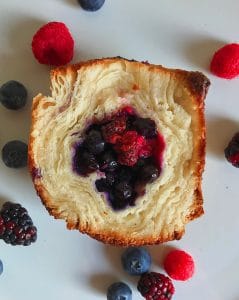 There's a reason that the kouign amann won the highly competitive (and nationally televised?) "Sweet and Savory 16" tournament that we hosted this March. Layers of buttery pastry balanced by the sweetness of vanilla-infused sugar and held together in a caramelized crust — what's not to love? We make our kouign amann using laminated viennoiserie dough and lightly salted, European-style butter (higher fat solids content). This gives the pastry its rich flavor and hearty texture.
Find Kouign Amann at Village Baking Company
If you've never had a kouign amann before, you have to try one! We offer our traditional kouign amann at farmers markets on the weekends (McKinney, Coppell, St. Michael's, Rockwall) and daily at our Dallas boulangeries. We also offer chocolate and rotating fruit varieties of this delicacy at our Dallas locations. You can check on the availability of kouign amann by calling either Dallas, TX Village Baking Company location at 214-951-9077 (Woodall St.) or 214-821-3477 (Greenville Ave.).