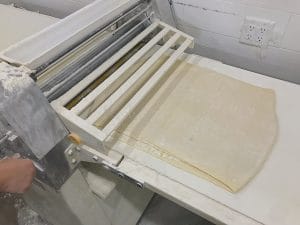 Dough lamination is essential to French pastry. Without it, no croissants, no palmiers, no nothing. If you're not immersed in baking culture, and you haven't watched the Great British Baking Show (highly recommended), you may not be familiar with dough lamination. When we tell customers that a dough is "laminated," sometimes they get a funny look on their faces and ask a question about dry erase markers. Worry not, dough lamination has nothing to do with plastic. We thought we'd dig into this essential process on the blog this week to give you a quick rundown of what you need to know about laminated dough.
Dough Lamination Involves a Lot of Folding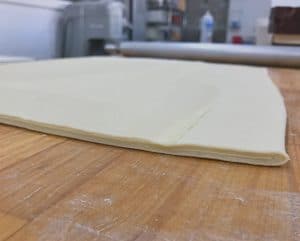 When you make a basic dough, you typically cream all of the wet ingredients together before adding them to the dry mix of ingredients or vice versa. To laminate a dough, you create a wet dough mixture without the butter (a lean dough). After rolling out the dough, you sheet the butter on top. Next, you fold the two layers over on themselves and roll out the dough. You've now completed a "turn," and your layers look like: dough, butter, dough. Continue this process over and over again to create more and more layers of butter and dough.
Dough Lamination Creates the Many Layers that Make French Pastry So Airy and Flaky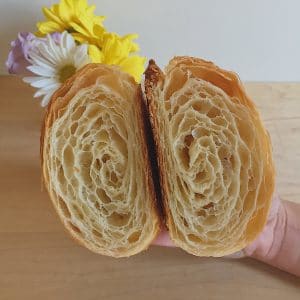 So, now you have a dough with tons of beautiful layers. What actually happens when the dough hits the oven though? In the case of pastries like croissants, the yeast in the dough mixture means it's ready to rise. In addition to the gas created by the yeast, the water in the dough becomes steam as a result of the oven's heat. The steam and gas expand between each layer of butter and dough. This combined leavening effort leads to the airy, flaky texture that makes croissants so delectable.
See Dough Lamination for Yourself at Woodall
Whether you want to see the process of dough lamination for yourself, or you're just interested in sampling the final products, our Woodall boulangerie is the place to be. You can see our pastry team laminating dough in the mornings, preparing to roll the next day's croissants. Learn more about our full menu of French pastry offerings by contacting either of our Dallas, TX boulangeries at 214-951-9077 (Woodall) and 214-821-3477 (Greenville).