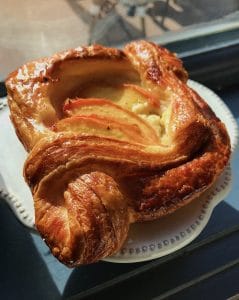 We're loving these theme months we've been doing this year. Having a special ingredient to work into our French pastries leads to some exciting inspirations. Blueberry, strawberry, and mixed berry have all been fun, but it's time for something new! In July, berries are making way for peaches! Peach is a tantalizing flavor, but it can also be challenging to work with. It's tricky to bring out a true peach flavor in baked goods without over sweetening them. Our pastry chefs are up to the task. We've composed some tasty peach creations for July that we think you're going to love!
Frangipane and Peach Are Perfect French Pastry Partners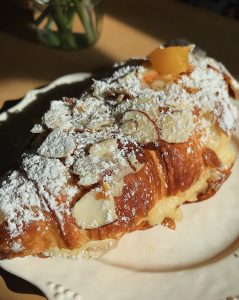 We started adding berries and jam to our almond croissants on Greenville back in April, and the results have been… delicious! Something about fruit combined with frangipane just flat out works. The nuttiness of almond and the sweet-tart profile of peach makes for an idyllic pairing. If you still haven't tried our fruity rendition of the almond croissant, this is the month! (Available on Greenville.)
Cookie Butter and Peach Meet in Our Seasonal Eclair
Y'all, most of you probably already understand the virtues of cookie butter. If you've never spent a night dipping straight into a jar of this Trader Joe's concoction with a spoon, block off the calendar, find some movies you've been meaning to see, and go crazy. For this month's seasonal eclair, we've whipped up a cookie butter pastry cream. Yes, you read that correctly. Cookie butter pastry cream, peaches, and a craqueline topping. It tastes like peach pie in an eclair. (Available on Greenville.)
Find Peach Kouign Amann and Fruit Squares on Woodall
Our Woodall boulangerie is in on the action too. You can find peach kouign amann (sooooo good) and peach croissant squares at both of our retail locations. These peach-imbued classics offer just as much to love as their berry counterparts.
Fruit Galettes Return, and They're Full of Peaches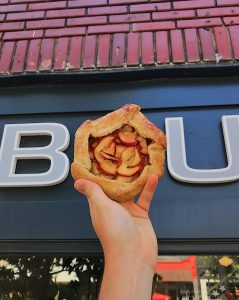 If you're a long-time VBC fan, you're probably familiar with our fruit galettes. They're flaky, shortcrust pastry rounds filled with delicious, caramelized fruit. The peach edition for this month is an absolute must. Fruit and pastry just sit well on a hot summer day. (Available on Greenville.)
Visit Village Baking Company Retail Boulangeries for Your Peach Fix
If you're excited about our seasonal peach items, you're in luck! You can find these scrumptious peach selections at our retail boulangeries on Greenville Ave. and Woodall St. If you ever want to check on the availability of a specific item before you stop by one of our Dallas, TX stores, please give us a call at 214-951-9077 (Woodall boulangerie) or 214-821-3477 (Greenville boulangerie).