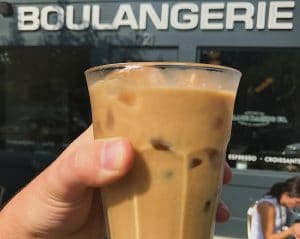 Y'all, it's only July. In other parts of the country, that means summer is on the backend. Here, it means we're just getting started. Since summer runs through September (and sometimes October) in Dallas, you need a wide range of strategies for keeping cool. Patios with misting fans are nice, and you probably already know where the nearest pool is, but where's your go-to summer spot for a sweat-stymieing cold beverage? Don't worry, we're on it. Village Baking Company has caffeinated creations to keep the summer swelter at bay.
Peach Iced Tea Is the Perfect Cold Drink for Summer Afternoons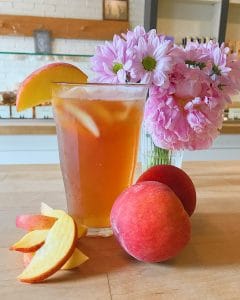 The familiarity and simplicity of iced tea make it one of the most popular cold drinks around. While we've carried hot tea for many years, we're happy to now offer this thirst-quenching libation at our boulangeries. Our rendition even fits this month's peach theme! We make our own peach syrup to give this cold drink a pleasingly sweet, summery finish. We're all about balancing flavors. While it is a sweetened tea, it isn't a traditional Southern, supersaturated, doing-laps-around-the-office sweet tea.
Customizable Cold Brew Is Your Secret Productivity Weapon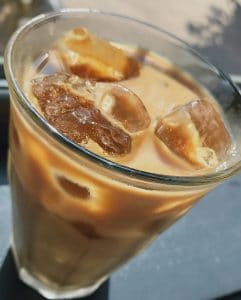 The summer heat can sap you of your energy and focus; caffeine can help you compensate. When it comes to caffeine, cold brew is king. We've been making our own cold brew in house for a few years now. When you cold brew your own beans, you have control over the ratio of beans to water, and we definitely prefer a strong coffee beverage.
Plus, if you're looking for a little something extra in your cold brew, we have made-in-house syrups to add some flavor. Of course vanilla is always a popular choice, but we've also got a honey lavender option. This is the refreshing cold drink you need to help you refocus amidst the boiling summer heat barrage.
Stay Cool This Summer at Village Baking Company
A six-month summer is no joke. Don't let the heat get the best of you! Village Baking Company has you covered with plenty of cold, caffeinated creations at our retail boulangeries. If you ever want to inquire about the availability of a specific item, please feel free to give us a call at either boulangerie. You can learn more about our menu and catering by contacting our Dallas, TX boulangeries at 214-951-9077 (Woodall) and 214-821-3477 (Greenville).