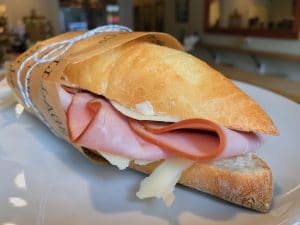 We were so excited to open our boulangerie on Lower Greenville three years ago (our little bakery is growing up so fast!) because we were adding a cold case and a prep space to make sandwiches. It was the perfect addition. (If you love everything about the process of baking and eating bread, you're naturally going to love sandwiches too.) Over time, we've found that our sandwiches give us another exciting canvas on which we can express ourselves artistically. We rotate our sandwich menu seasonally, and our summer sandwiches have now officially arrived. As per usual, we've brought back some favorites, and we've explored some new creations. Of course, the jambon beurre is still there — don't worry, that sandwich has tenure. Here's a rundown of our summer sandwich menu, which you can find at both Dallas locations.
The Caprese Sandwich Is Back and Better than Ever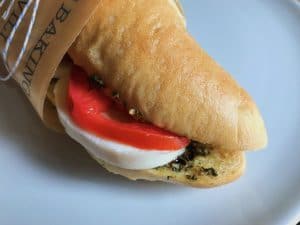 Dallas summers are hot. Really hot. So they need sandwiches that offer refreshment. The Caprese was one of our original sandwiches at the Greenville boulangerie. We rotated it out because we wanted to be able to use tomato from local farmers markets when possible. The Caprese is now a seasonal option, but oh, does absence make the heart grow fonder. Tomato, mozzarella, and house pesto on baguette. It's simple, fresh, and light — the ideal fit for a summer lunch menu.
The Original Vegan Sandwich Also Makes a Triumphant Return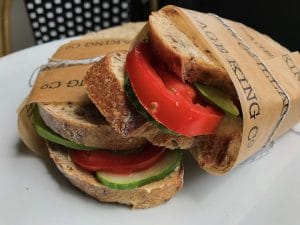 That's right, two — count 'em — two vegetarian sandwich options. When there's so much amazing local produce around, why wouldn't you take advantage? This vegan sandwich resides on our multigrain bread, and finds itself packed with flavor. Tomato, avocado, cucumber, red onion, and hummus ensure that this sandwich provides substance along with nutrition. Again, the fresh flavor profile makes it a great candidate for summer — perhaps a picnic out at White Rock Lake?
Chicken Salad on Croissant Is a Can't-Miss Summer Sandwich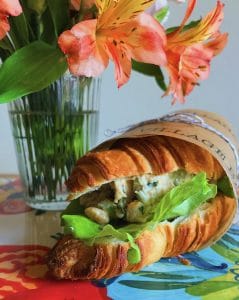 Once, someone said to us, "You should make a sandwich on your croissants," and we said, "Yeah, we should." So we did! Our summer chicken salad is the latest croissant sandwich creation. Our take on this deli classic includes roasted chicken, basil, parmesan, celery, pine nuts, cayenne, and mayo with bibb lettuce for added crunch. You won't want to miss out on this one.
The Rosemary Turkey Is Back with Rosemary Aioli
Our Roasted Turkey sandwich is another returner, but our rosemary aioli gives this sandwich an even brighter flavor. Turkey, Havarti cheese, lettuce, tomato (we love tomato), and a rosemary aioli create a simple-but-satisfying balance that really allows the bread to shine. To us, sandwiches are just as much about the bread as they are about what goes inside.
The Reuben Is Village Baking Co.'s Sandwich of the Month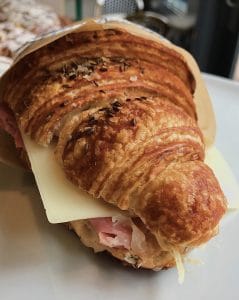 Finally, our sandwich of the month is the scrumptious, savory Reuben sandwich. Our house-made thousand island dressing sets this rendition apart from the rest. That, and the fact that this delicious deli-style sandwich comes on our pretzel croissant (with caraway seeds on top). It's salty, melty, and just plain yummy.
You Can Find these Delicious Summer Sandwiches at Both Village Baking Co. Dallas Locations
If you're ready to sample these sentalating summer sandwiches for yourself, we carry our seasonal sandwich menu at both Dallas boulangeries. Sandwiches are typically ready around 11 AM. You can also find our sandwich menu on Ubereats! To learn more about our sandwich offerings, or to inquire about a large retail order, contact Village Baking Co. in Dallas, TX on Woodall St. (214-951-9077) or Greenville Ave. (214-821-3477).