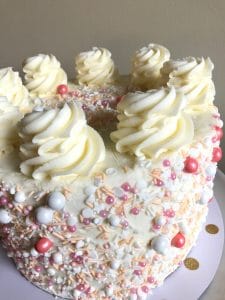 Ahhh! It was our Greenville birthdaversary this past weekend and we did all of the celebrating. (Huge thank you to our store manager Liz, who came up with some eye-popping pastry concepts and sprinkle combinations.) Three years ago, we opened our boulangerie storefront in Lowest Greenville, and while so much has happened in that time, our mission has remained the same: We wanted to bring the vibe and aesthetic of a French cafe to the neighborhood. This was our second retail space, and the first that we would actually have the chance to design ourselves! That prospect is incredibly exciting at first, then it gets overwhelming, and then it oscillates between those two feelings until the space is ready. We love what our little neighborhood boulangerie has become, so here's to you for making it possible!
We Just Want to Help Dallas Relax
Our original storefront on University Boulevard (peace be upon it) was full of authentic charm, but not full of seating. Why is having a place to sit so important to us? Because it's part of our experience. We don't want you to rush through one of our pastries or sandwiches. Our doughs are labor-intensive. We take our time making them, and we want you to be able to take your time enjoying them. Life moves quickly (especially in Dallas). We want our boulangerie to be a vacation — an instant trip across the Atlantic to a more relaxing pace of life.
We Love Being Part of the Lowest Greenville Fabric
Another reason we jumped at the chance to open a store on Greenville is because it's fun to be here! Greenville is such a vibrant neighborhood that has made us feel welcome since day one. Since we've been here, we've seen the formation of The Lowest Greenville Collective — an awesome, locally-rooted organization. If you're not familiar, the businesses of Lowest Greenville have been planning events as a neighborhood and giving back to the Dallas area (check out Lowest G Cools Down the Big D). It makes this neighborhood truly feel like a community.
Here's to Many More Birthdays for Dallas' Boulangerie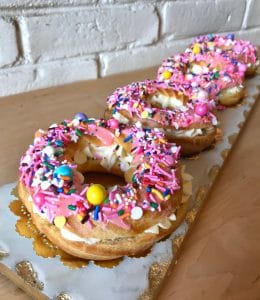 We look forward to seeing what our boulangerie and the Lowest Greenville neighborhood can become. We hope to have many more birthdays on the block. You make this all possible, and for that, we say "merci!" You've welcomed us to the area and shared an awesome three years with us. We promise to continue to be your taste of France in Dallas — a gathering place for friends, a vacation without a passport, and a little midday retreat for when things get hectic.
More About the Lowest Greenville Boulangerie
Our Lowest Greenville location is situated between The Blind Butcher and Greenville Avenue Pizza Company. You can typically find parking in the lot next to the Truck Yard when street parking gets crowded. If you'd like to place a large order, or if you'd like to check on the availability of a specific item, you can contact Village Baking Company Boulangerie in Dallas, TX at 214-821-3477.